THE SUPER BOOST KIT 12-24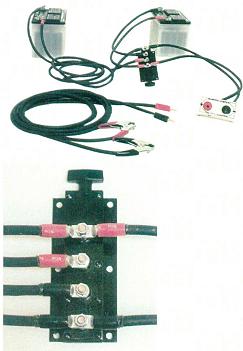 A complete kit for 12 or 24 volt boosting power that delivers maximum amperage to any type of engine needed started. The series / parallel switch is a heavy duty enclosed slide switch. There is 59 feet of #1/0 welding cable that is pre-cut to fit all makes and models of pickups.
The boosting cables are 15 feet long, each with the battery grips shunted to make both jaws hot to prevent spring weakening. All connections are soldered and / or crimped with color-coded shrink tubing to prevent unnecessary corrosion. Both batteries are charging constantly while the motor is running. Plug outlets are 12 volt hot all the time.
Custom kits for special applications available on request